Let Teatime Delicacies make your next catered event truly special – from elegant wedding receptions to important business affairs. Teatime Delicacies offers a wide variety of delicious and artistically presented cuisine to suit your taste and budget. Our professional and personable catering staff will help provide you with the carefree, relaxing and memorable event you deserve.
We present a wide variety of delicious menu options including traditional, ethnic and vegetarian cuisine as well as delicious handmade desserts and beautiful custom wedding cakes. As a full service catering company for over 30 years, Teatime Delicacies can also assist you with your venue rental, photographic, floral and musical needs. We have numerous suggestions for venues in northern Virginia as well as Washington DC and the surrounding Maryland suburbs.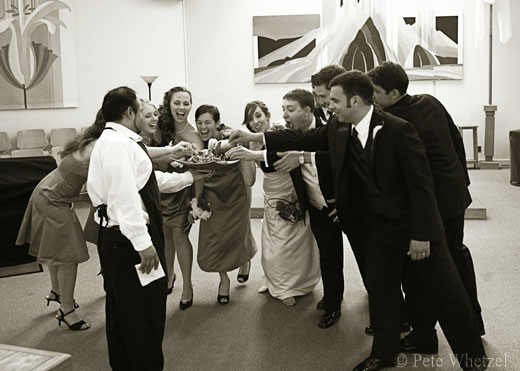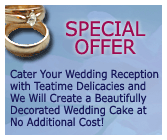 We look forward to meeting and getting to know our clients and providing them with an event that is an extension of their personality. We pride ourselves on our quality cuisine, creative presentation and personal, professional service. We pay close attention to all the details of your event and work closely with you to plan your menu and logistics to ensure that your function is well executed.
If you have questions or need additional information, please feel free to email us or call 703.323.1607. We're always happy to help.
Selected for Wedding Wire's Bride's/Couple's Choice Award Seven Years in a Row
Teatime Delicacies, Inc. is proud to have received Wedding Wire's Bride's/Couple's Choice Awards for Catering in the Washington DC metropolitan area seven years running! The annual Bride's/Couple's Choice Awards recognizes the best local wedding vendors from the WeddingWire Network who demonstrate quality and service excellence within the wedding industry. WeddingWire Bride's/Couple's Choice Awards™ are determined by the quality, quantity, recency, and consistency of reviews from over 1.2 million WeddingWire newlyweds. The 2015 award recipients represent the top five percent of WeddingWire's vendor community, which consists of over 200,000 wedding professionals throughout the US and Canada.